Link your phone to your fence collar for
behavior modification training!
Stop unwanted behaviors such as:

Link your phone to your fence collar for
behavior modification training!
Hidden Pet Fence of New York
Here's why our customers choose us over the rest:
• Our system works for all dogs with a MONEY BACK GUARANTEE!
• We have specialized training protocol for timid and stubborn dogs.
• Our Endless Boundary system works past the line to keep even the most stubborn dogs in.
Call Us 1-877-364-9273
Get A Free Estimate
Superior Service and a Lifetime Warranty

Welcome to
Hidden Pet Fence of NY
Our company started in 1992 as a one-man operation. In 2004, Ralph Rizzo purchased the company because of the great dog fence training that was humane and 100% successful. In just a few short years, Ralph took the company to a new level of sales and service.
We install and service all types of dog fencing systems from Rochester, NY to Elmira, NY, and the whole Capital District around Albany, NY. Our owner, Ralph Rizzo, is a nationally known dog trainer that uses a revolutionary certified training procedure called Condition Response Training. This is an electronic dog fence training process that conditions your dog to the boundaries you choose. Our dog fence offers more pet-friendly features than any other containment company in the industry. We offer every solution when it comes to electric dog fencing including GPS dog fences, wired and wireless dog fences and all of our systems come with a money-back guarantee. Call us now to get a price on installing a new Hidden Pet Fence, and soon your dogs will get the exercise and freedom they (and you) deserve!
Dog Fence
Training
We train your dog so you don't have to
Hidden Pet Fence owner Ralph Rizzo, created an awesome dog training program related to electric pet fences. He is IACP (International Association of Canine Professionals) certified and uses the most humane training system in the industry. We do not believe that shock keeps the dog in the yard, proper certified dog training does. Whether you have a guard dog, a watchdog, or a lovable family dog from your local Humane Society, we will contain your pet to stop at the fenced-in boundaries you give them. A lot of people say "our dog is too stubborn" or "our dog will just take the shock and run through the hidden fence". Well, our certified dog trainers all across New York will humanly and successfully train them to stay in the yard. This is backed by a money-back containment guarantee!
Total Pet Solutions
Dog Yard Hidden Pet Fence is the best electronic pet fencing & dog door installation company in the Rochester, New York area, but we are also a full-service pet solutions company. We provide professional behavior modification training, using remote-controlled systems, and bark control systems. We also offer professional installation of dog doors, made by PetSafe®, and professional-grade dog doors made for our dealers, by Ideal. Our high-grade dog door is simply the best you can buy. The energy efficiency is rated number one in the industry with the patented insulated design. Dog breeders, veterinarians, dog trainers, and other pet professionals in Rochester & Albany NY recommend us over the other brand of pet containment because we offer total pet solutions & the best service after the sale.
Custom Training Program
Years ago, Hidden Pet Fence owner Ralph Rizzo, created a training program for dogs that is used every day. He is a nationally known IACP (International Association of Canine Professionals) certified trainer & uses the most humane training system in the industry. Most people think it's just a matter of letting their dog get corrected or shocked a few times and the dog learns to obey boundaries on its own. It does not work that way, as shock alone does not keep the dog in the yard. Dogs need to be conditioned with sound, feeling that doesn't scare or freak them out, and reward. Many dog fence trainers use shock to train, and then the owners are stuck with a "porch dog" because they are too scared to go outside. Over shocking a dog creates fear, not a trained condition. All breeds of dogs are compatible with our system from larger watchdogs to smaller family dogs. We even train cats to the fence!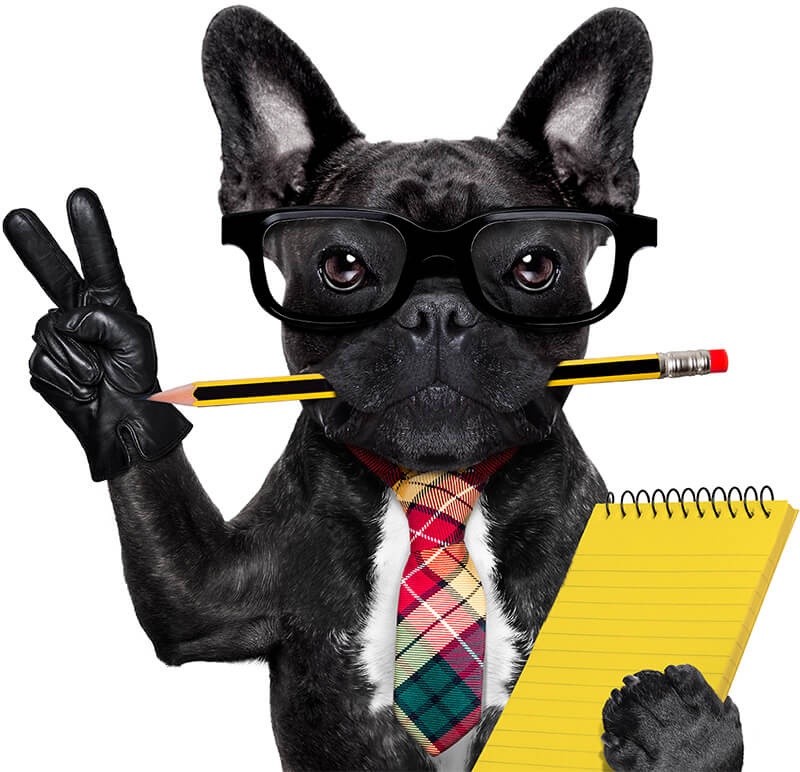 Do you already own an Invisible Fence® brand system? Then CLICK HERE for replacement batteries and collars or CLICK HERE to schedule repairs, service, or get help with your system.
(Please don't confuse us with the Invisible Fence® brand of Rochester, NY or Invisible Fencing® both are registered trademarks of Radio Systems Corp.)
Call or Text Us Now to Schedule a Free Hidden Pet Fence Estimate.
Invisible Fence® Brand Compatible. Best Fence, Best Price!
Why Choose

Hidden Pet Fence of New York

The main reason to choose our company is that we have a 100% success rate keeping dogs safe in their yard since 1992! That's 210 dog years! We design a system that's right for you and your dogs and we provide the training for them to learn the boundaries. Please look at the points below that make our company the best option compared to the traditional Invisible Fence® brand which is a big box franchise company that is run out of an office in Tennessee.

We get asked all the time why customers should choose us over the "big name" company. Besides offering the best technology available, we really have the best service and training process in the industry. This site will give you a ton of information that you won't find on other sites. You will find other unique qualities that we run our business with that will make you feel comfortable with our brand and service. Since every yard, dog, and pet parent is unique, we offer free, no-hassle estimates. We appreciate the opportunity to earn your trust, and we look forward to working with you.
Our hidden fence works past the line. Other systems only work at the line.
The contacts that touch the dog are retractable! Other systems are solid steel probes that have NO give at all.
We offer rechargeable collars! Our competitors at Invisible Fence® brand in the Albany, Elmira, and Rochester, NY areas charge $25 per battery every 3 months. After tax and shipping, that's over $100 per year, per dog, just for batteries for the collar!
Our wire comes with a written guarantee! Up to a LIFETIME of corrosion protection.
We are scheduling installations about 1-2 weeks out and repairs are even less wait time. The Rochester, NY Invisible Fence® company is currently several months out! Imagine having to wait over 2 months to have your fence installed or repaired. That is most of your summer waiting for service!
Danielle Ballard - Rochester, NY

"My husband and I have been extremely pleased with Ralph and his staff at Hidden Pet Fence. Everyone has been exceptionally easy to work with, and when behavioral issues arose unrelated to the pet fence, Ralph helped to guide us to a trainer that can help us! We would recommend Hidden Pet Fence to anyone!"
Bethany Henderson - Rochester, NY

"We loved working with this company. The fence they sold us in 1999 still works, and the 2 new puppies recently were trained to the system seamlessly, in just a week. The service Ralph gives is still wonderful even though he has grown so much since our original purchase. Great job."
Jason Pignagrande - Pittsford, NY

"Ralph and Hidden Pet Fence have installed the there fence at two of my houses now. The price was very fair and the crew was professional. They even came back out the service my fence right away when I had a landscaping mishap! Jason"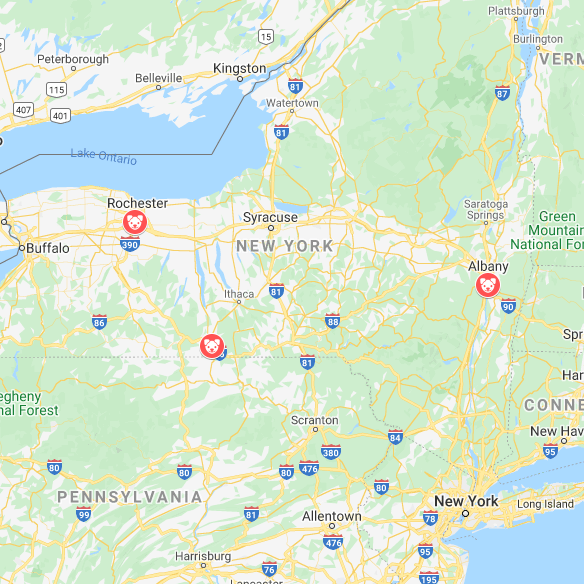 Location

& Service Area

Located in Rochester, Elmira, and Albany, NY, Hidden Pet Fence has been the industry leader in technology and humane & effective dog training for pet containment and electric dog fence systems. Our underground dog fence can be set up into multiple zones to which our certified dog trainer will humanely train them to obey. This pet fencing system can go into woods, lakes, ponds, even inside your home. We can keep your puppy in the yard while out of the garden or landscaping. In the kitchen, but out of the dining room.

Have problems with the family pet staying out of the garbage, off of counters, stealing food out of the dining area, and off the furniture? Our indoor electronic fence solutions will create "no-zones" that will give you control over where your dog is allowed to go. We customize it for you and your needs inside your home or outside in your yard. Plus, our underground hidden dog fence is more economical and maintenance-free than conventional chain link fences, wood fences, or vinyl fencing, making for a more cost-efficient system at an affordable price.

Wondering how much an underground dog fence system costs in Rochester, NY? We offer free estimates with multiple package options and financing plans to fit everyone's needs. There are many factors that contribute to underground dog fence pricing, so book your free estimate today to see your options!
Towns & Zip Codes We Service
Monroe County, Adams Basin 14410, Brockport 14420, Churchville 14428, East Rochester 14445, Fairport 14450, Hamlin 14464, Henrietta 14467, Hilton 14468, Honeoye Falls 14472, Mendon 14506, North Chili 14514, Penfield 14526, Pittsford 14534, Rush 14543, Scottsville 14546, Spencerport 14559, Webster 14580, West Henrietta 14586, Rochester 14603, 14604, 14605, 14606, 14607, 14608, 14609, 14610, 14611, 14612, 14613, 14614, 14615, 14616, 14617, 14618, 14619, 14620, 14621, 14622, 14623, 14624, 14625, 14626, Brighton, Chili, Clarkson, Greece, Irondequoit, Ogden, Parma, Perinton, Riga, Sweden, Wheatland, Wayne County, Arcadia, Butler, Clyde 14433, Galen, Huron, Lyons 14489, Macedon 14502, Marion 14505, Newark 14513, Ontario 14519, Palmyra 14522, Red Creek, Rose, Savannah 13146, Sodus 14551, Sodus Point 14555, Walworth 14568, Williamson 14589, Wolcott 14590, Livingston County, Avon 14414, Caledonia 14423, Conesus 14435, Geneseo 14454, Groveland 14462, 14545, Leicester 14481, Lima 14485, Livonia 14487, Dansville 14437, Nunda 14517, Ossian, Portage, Sparta, Springwater 14560, West Sparta, North Dansville, York, Ontario County, Canandaigua 14424, 14425, Geneva 14456, Bristol, Canadice, Bloomfield 14469, East Bloomfield, West Bloomfield 14585, Farmington 14425, Gorham, Hopewell, Manchester 14504, Naples 14512, Phelps 14532, Richmond, Seneca, South Bristol, Victor 14564, Clifton Springs 14432, Rushville 14544, Shortsville 14548