CLICK HERE to watch a short YouTube video if you are an existing Invisible Fence® customer.
Every year dozens of customers that own Invisible Fence® brand dog fence systems call us for batteries, service, new collars, system repairs, training or anything else they may need. We are told over and over again that our prices, products & services are better than they had with the other company. No matter what system you have or how old it is, we are your local company to work with. We also have in stock Invisible Fence® brand transmitters and collars! This is the "name brand" product that we took in on trade and have been refurbished and tested and ready to sell (limited quantities for the name brand).
Click here to order a replacement battery for your Invisible Fence® brand system.
Need a battery for your Invisible Fence®? STOP overpaying your Albany, Rochester, or Elmira NY Invisible Fence® brand dealer. Our Replacement batteries for the Invisible Fence® brand system are guaranteed to work, and are up to 50% less than our competitor's battery. Although we install and service the dog fence systems from Rochester NY to Elmira, Albany, and the Capital District, we can ship batteries to your door, anywhere in the country! We can come to your home to repair your fence, train a new dog to your system, or ANYTHING else you may need done.
Click here to have your Invisible Fence® system worked on. We can install it at your new home, make repairs, train a new dog to your system, or sell you replacement collars and other parts.
Are you moving and want to take your Invisible Fence® with you?
Are you taking your Invisible Fence® brand system with you? Give us a call now at 1-877-DOG-Yard (1-877-364-9273) and we will give you a free, no-hassle estimate on installing your system in your new home. Compare us to the company that originally installed your system and ask them what their warranty is on the wire that they install. We offer a 15 year and Lifetime guarantee on re-installing your pet fence system.
Need a repair on your Invisible Fence® brand system?
Give us a call at 1-877-DOG-YARD (1-877-364-9273) to schedule a dog fence repair. Invisible Fence® brand customers have told us many times that we do repairs for a lot less than they have been charged by Invisible Fence® brand in the past. We also use the best wire break locator available. That means we find and fix issues faster, and the cost of the repair is much less for the fence owner.
Our service call rate is normally less expensive than our competitors at Invisible Fence® brand, and we have the best diagnostic equipment available. Our customers have told us that the other guys use a radio attached to a stick to find a wire break and often, they cannot find the exact location of the break and that the whole wire has to be replaced. We do not use a radio to locate breaks in the pet fence wire. Our technicians use an underground wire locating kit to locate a break in the pet fence wire, and the tools cost about $2000. We only use the best tools available to locate and repair your Invisible Fence® brand system. I assure you… we do not use an AM/FM radio on a stick like our competitor does, to try and locate a broken wire.
Our systems are compatible with Invisible Fence® brand Computer Collars® and our replacement batteries will replace the Invisible Fence® Power Caps® or Power Cap® batteries.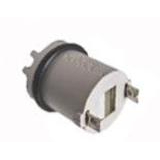 Replacement Battery for Invisible Fence Brand® Receiver Collar
Does your Invisible Fence® brand collar receiver look like this? If so, then these are the batteries you need.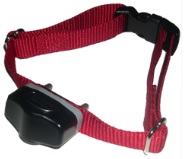 Testimonial from Lori G a customer of ours after using the other company, Invisible Fence Of Rochester NY:
"Although I have an Invisible Fence System, my dog trainer, Rochester, Canine Academy recommend Hidden Pet Fence to me as an alternative and cheaper solution for repairs. You DO NOT have to hire Invisible Fence to repair their system! Mike at Hidden Pet Fence was great. He found the breaks in the line, fixed them quickly and was ready to stake the yard and train the dog. Mike explained everything he was doing and gave me a very detailed training plan to follow. Hidden Pet Fence is a great alternative to hire for an invisible system and lots cheaper. I will call them for any repairs I may need in the future. I got a call a few days after they were out. They charged me too much to fix the line and they were sending me a check. Who is that honest?"
Testimonial from Albert A from Albany NY
"I used invisible fence of the capitol district to install my fence about 5 years ago. Upon needing service to have a new dog collar for our second dog, I was told that I needed a whole new system at the tune of $2500. They said my system was old and outdated and that was my only option. I called Hidden Pet Fence of NY, and they supplied me with a new collar that works perfect with my system for $275. They didn't try to sell me a new fence, and the collar is smaller then the other one, and it has a low battery light built in in. It also has gentle spring contacts that flex with the dogs movement. The workmanship of this system is far superior then the invisible fence brand."
Need a replacement receiver collar? Please give us a call, as we have a few options for you to choose from. We offer replacement collars that work with your system. You do not need to purchase our system!
Now you can order replacement parts online for your Invisible Fence® brand System! STOP overpaying your local Invisible Fence® brand dealer for batteries, collars, and service. NOTE: We only offer scheduled home service for the Invisible Fence® brand systems in the Rochester, Albany & Elmira NY areas, but we sell the Invisible Fence® brand replacement batteries and collars anywhere in the USA! Call us now at 585-663-5290
OR
Click here for service on your Invisible Fence® brand system.
Attention: We now sell batteries and replacement receiver collars that work with the Invisible Fence®systems for the Albany, Elmira & Rochester, New York areas. (NOTE: We are NOT an authorized Invisible Fence® dealer, New York. Our dog fence products are simply compatible with the Invisible Fence® brand electronic dog fence systems.)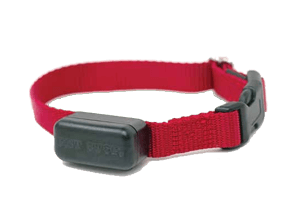 Our Ecolite collars are fully compatible with Invisible Fence®, Dog Watch®, and Dog Guard®.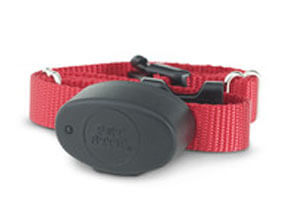 SW elite collars are also fully compatible with Invisible Fence®, Dog Watch®, and Dog Guard®.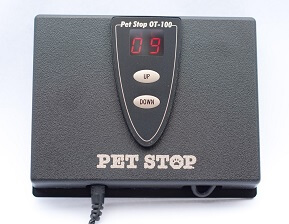 OT100 Transmitters are compatible as well with most brands including – Invisible Fence®, Dog Watch®, and Dog Guard®.
Verifying the frequency of your system is easy to do and is just a matter of looking at the circuit board to determine if it is set to a 7K or a 10K frequency. Use the image below as a visual guide to better understand what the frequency switch looks like and how it is set:
Our system is compatible with 700 and 800 series Invisible Fence® brand transmitters
NOTE: Hidden Pet Fence in Rochester, NY is NOT affiliated with the Invisible Fence® brand OR PetSafe® brand. We do however offer replacement Batteries, service, dog training, and parts for those brands. We are NOT authorized dealers for those companies.
Radio Fence and Underground Fence are Trademarks of Radio Systems Corporation.
PetSafe® is the registered Trademark of Radio Systems® Corporation
Invisible Fence® is a registered trademark of Invisible Fence® Inc.