Hidden Pet Fence products are more advanced, safe, and comfortable for your pets than any other company's plus they are made right here in the USA by Pet Stop®.
It's reassurance that you want when your dog's safety and security are on the line. With our products containment is only step one. We want your dog to be comfortable as well. Match that with a quality product that won't break on you and make it affordable and you have us. We offer a free dog fence consultation as well.
Dog Fence Features
The top 3 things that will make us the obvious choice for your electronic dog fence solution:
1- Wire corrosion warranty (up to a lifetime guarantee) The invisible fence®  brand won't guarantee their wire for the fence they install.
2- The stopper feature, that makes the collar work past the line. (great for fast or stubborn dogs!) The guys at invisible fence®  brand CAN'T offer the Stopper®  feature
3- Gentle contacts. We use a retractable spring, gentle touch contact, that will retract when your dog is moving, rather than it pushing further against their neck and throat. The Invisible fence® brand pet fence contacts are solid metal pins that are more likely to cause sores to the skin because they do not move or retract.
Hidden Pet Fence Receiver by PetStop®
It's the smallest, lightest, fully customizable collar that is available on the market today. Your pet will hardly know it's there making him or her VERY comfortable with our product! Can be individually programmed and works with most pet containment transmitters. Hidden Pet Fence receivers are more advanced and have more features than any other receiver on the market, plus they are compatible with the Invisible fence® brand systems!
Comfort Contacts®
Uniquely designed probes to provide your pet with comfort and safety. No solid steel pins or abrasive metal that our competitors use in their products. Only the comfort of soft rubber will touch your pet's neck. Remember, we want your pet to be comfortable.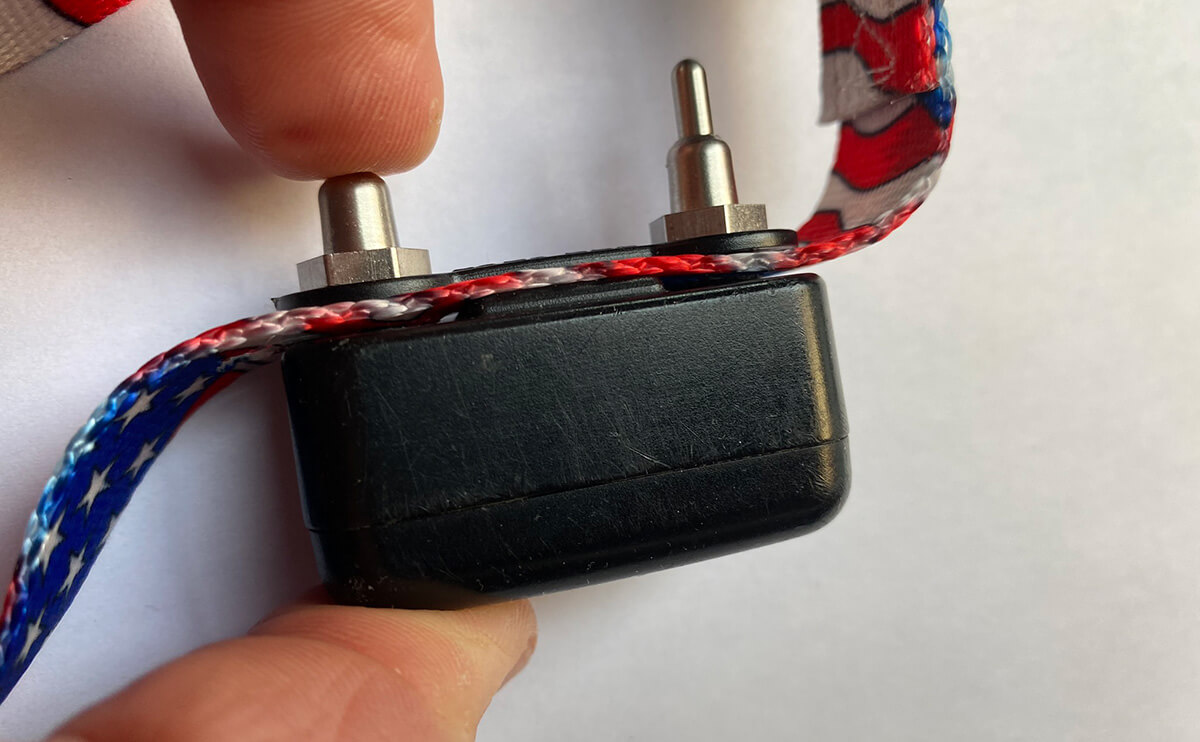 Gentle Spring Contacts
The Gentle Spring Contacts are spring-loaded steel collar probes. The retractable spring action applies the pressure, allowing the collar itself to be worn more comfortably by your dog. The spring tension applied when worn is the perfect balance between effective contact and minimal skin pressure, making your system safer and more effective.
TriScan™OMNI-DIRECTIONAL ANTENNA
No blind spots or "holes," because all our receivers incorporate THREE antennas ensuring full 360 degrees of signal detection. The most advanced antenna used for electronic pet fencing.
FlashAlert®- LOW BATTERY LIGHT
Ever get tired of wondering if the battery has died or not? With our system, you will be notified when that has happened so no more guessing when to change the battery. Never purchase an expensive battery you don't need. This patented feature will flash brightly to alert you when the receiver battery needs changing.  Now that's convenience!
SafetyStop™ SAFETY SHUT-OFF
Most products offer some sort of safety shut-off, but only Pet Stop® products will shut off AND STAY OFF until your pet is free from the signal. Other products cycle on and off. Only with Pet Stop® receivers can you feel confident of maximum protection from continuous activation.  We take pride in using Pet Stop® receivers for our customers and it's just another example of the amount of different brands that we work with.
SmartReceiver® – Progressive Levels of Correction
Our receivers detect both how long your pet stays in the signal field and how deeply they enter it. The longer and deeper your pet is in the field, the higher the level of correction. This means your pets won't receive more correction than they deserve while maximum protection is still there when needed.  This is a wonderful example of how we customize our service to your pet.
StayAway™ – Anti-Linger System
With some products, pets quickly learn that the warning signal has no consequence. Not with Pet Stop® receivers. Our receivers calculate the time your pet stays in the warning field and gradually increase the correction level until they retreat. This saves battery life and, more importantly, reinforces the initial training and conditioning.
Digital Design
Our transmitters incorporate the following DM Technology (Digital Modulation) into the design – the same type of technology trusted in commercial aircraft radios to avoid signal interference.  This technology is superior to those products incorporating limited (FM) modulation.
Owner-Friendly Controls
You're sure to appreciate easy-to-use system settings and controls for programming your computerized receiver with its large LCD display.  Pet Stop can be customized to the most unique pet's needs.  These controls allow you and your dealer to work together to easily implement changes without the need for costly on-site service fees.
Power Loss Memory (PLM)
Should you ever lose power, there's no need to reset your fence.  Pet Stop equipment remembers all of your settings.  The last thing you want to worry about after a power outage is the safety of your pet.  A battery backup unit is also available if you are affected by frequent power interruptions.
Wire Break Indicator
All units incorporate an audible and visual warning in the unlikely event your boundary wire breaks.  Breaks happen, and a good warning system is the key to keeping your pet safe.
Lightning Protection
The Pet Stop transmitter has some of the best lightning protection available built right into the systems, preventing the need for add-on surge devices.
Zapp Alert
Even with the best protection, lightning can still be an issue.  The audible and visual warning system alerts you if a surge occurs in the transmitter.
Yard Link
This feature is just as it sounds. We can link your neighbors' property to yours so your dogs can play, but each dog can only return to its own door at night.  If your dog has a friend next door, ask us how this feature can work for you.
HOW TO CHANGE THE BATTERY IN A HIDDEN PET FENCE OF NY PETSTOP® or INVISIBLE FENCE® COMPATIBLE COLLAR
INVISIBLE FENCE BRAND COLLAR BATTERY REPLACEMENT FOR ROCHESTER ELMIRA, ALBANY, AND PITTSFORD NY